I cannot believe it's been a full year since I published Pursuing Dreams!
This first book in The Young Soldier series took me 13 years to write. It started as a hobby in highschool, however, the longer I sat with the story, the more I knew I wanted it to become something more with it. Many years of learning and rewrites later, it has!
Even though I haven't been able to give it all the marketing attention I had hoped to last year, due to personal injuries and accidents, I've never regretted finally publishing this story!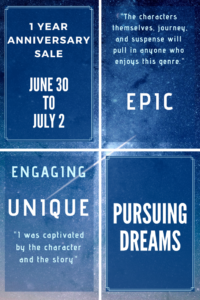 For everyone who has read it and left me a review or sent me a personal note, I'm so thankful for your support and glad you enjoyed it.
In honor of the 1 year anniversary mark, this book will be FREE on kindle all week. This is the perfect time to share my story with friends you think will enjoy it too ❤
https://www.amazon.com/Pursuing-Dreams-Young-Soldier-Book-ebook/dp/B072516QKC