It's finally time to reveal the cover for Traitors & Betrayal, the third book in The Young Soldier series. This is my favorite cover in the whole series. It has been so hard to keep it to myself these last few years. I'm so excited to finally share it with all of you!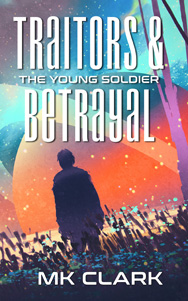 All Don wanted was the truth.
Turns out, the truth is complicated.
In this third installment of The Young Soldier series, Don lands on a newly discovered planet. The mission: to establish a second homeworld and protect against a Zarwean invasion. What seems like a simple task becomes immediately complicated when members of the expedition team begin to disappear.
As the search for his missing comrades heats up, Don makes startling discoveries about the planet he's on and the Council. With lives hanging in the balance, Don must choose between the truth that will save his friends and the one that will save humanity.
Who will he betray?